Bio
Burne Holiday was conceptualized at Princeton University in the spring of 2011, when Cory, Javier, and Joey decided they'd like to try their hand at writing songs in the vein of their musical idols. They began throwing around song ideas over the summer, as well as picking out some choice tunes from their favorite bands.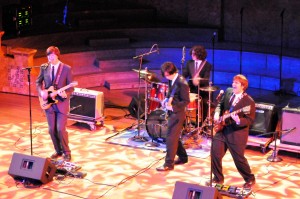 Upon returning to campus in the fall, they recruited the help of friend and bassist extraordinaire Nathan Tyrell and began booking shows on Princeton's fabled eating-club circuit. Since then they have rocked out to crowds of hundreds and played at Princeton's prestigious Richardson Auditorium. On May 30, 2013, they released their first CD, the Upstanding Young Gentlemen EP.
Despite the recent graduation of three of its members, Burne Holiday has plenty more tasteful music and tasteless immaturity to offer the world, as the band plans to begin booking dates in the New York/New Jersey/Pennsylvania area.